If you constantly get inbound calls from the same number, you can block this number by adding it to the blacklist. Click Telephony > Connection > Configure telephony > Blacklist.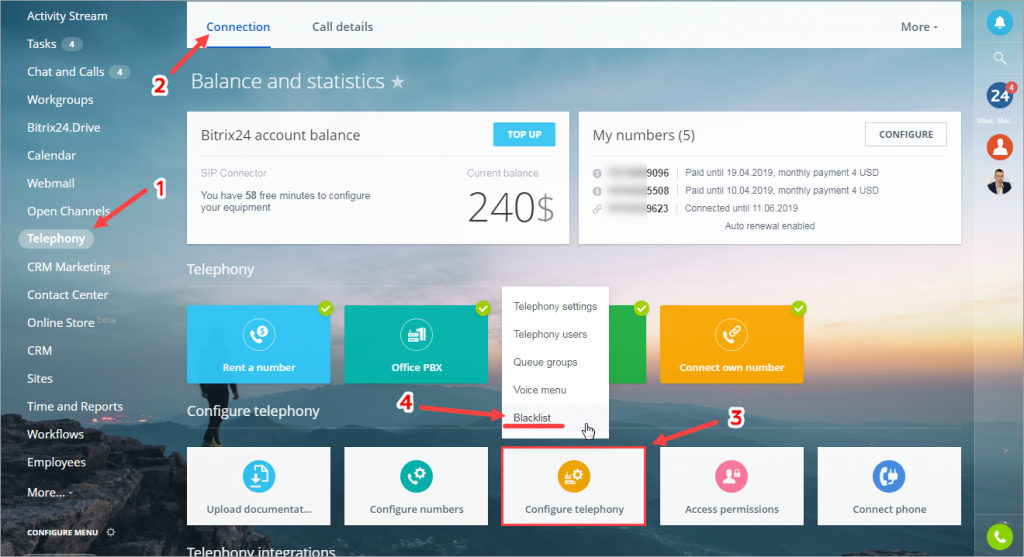 There are two ways to add numbers to the blacklist:
Automatic

Click the cogwheel button > activate Auto block phone numbers outside office hours option:

Configure Number of calls and Time period (in minutes) between them, and Bitrix24 will automatically add the numbers meeting these requirements to the blacklist. Don't forget to record a message for the off-hours calls processing in Working hours section of Number settings.

The administrator is notified when a number is added to the blacklist.

Manually

You can also add numbers to the blacklist manually.

Just click Add to list button and specify numbers you want to block.

Calls from the numbers added to the blacklist will be declined and will be displayed in the Call Details section.
How to remove the number from the blacklist
Click the actions button next to the phone number in the Blacklist > click Delete to remove the number from the Blacklist.