The CRM now has an Activity Stream of its own. It is a central communications and management interface for the CRM. The stream intuitively presents information about work that has been recently carried out with each CRM object in chronological order.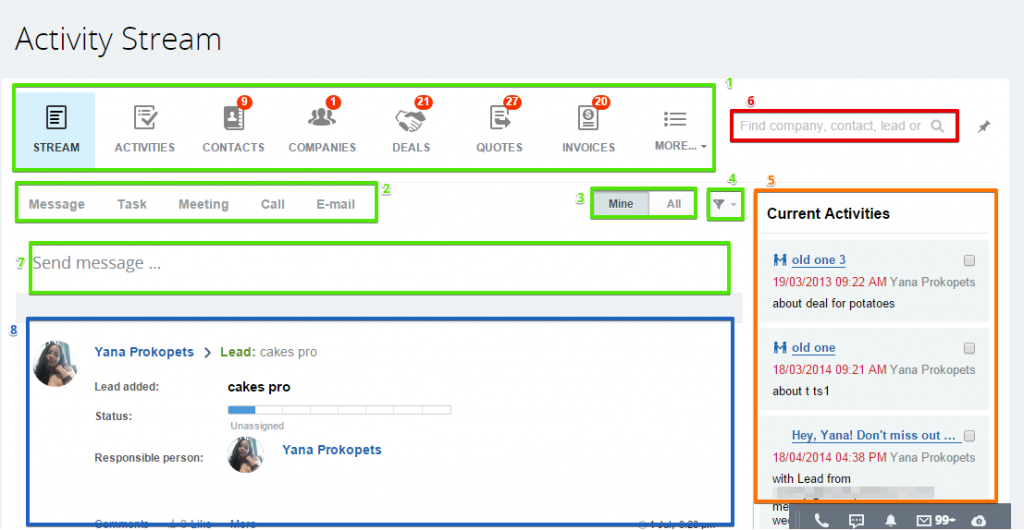 1 - CRM Top Tabs: the tabs can be found on each CRM page & allow to easy navigate between CRM sections: leads, contacts, companies, deals, quotes, invoices and activities. The red counters advise how many CRM items deserve your attention at the moment. Additional CRM options such as reports, sales funnel, history, products and settings can be found under "More":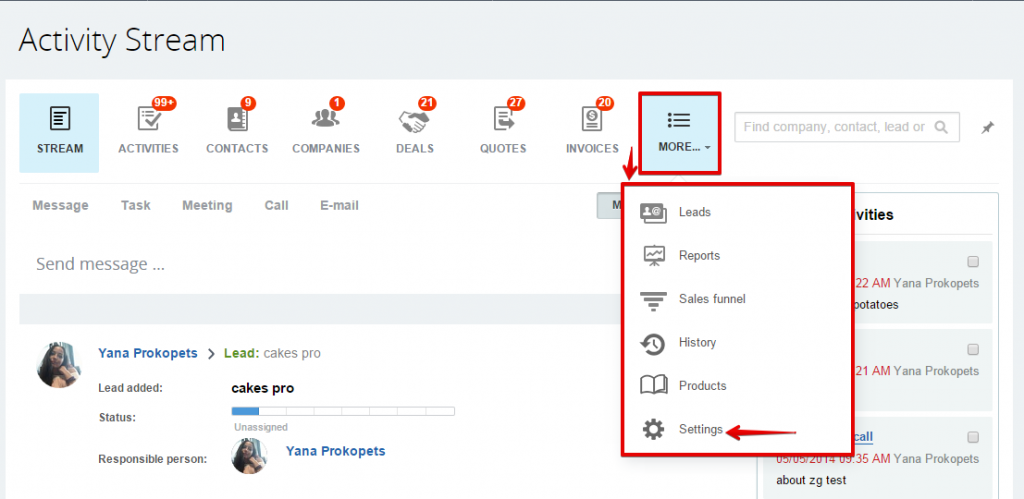 2 - Quick Activity tabs: quick and handy way to create new task, message, meeting, call or an email. Please note that email templates cannot be accessed from the CRM Activity Stream section, they are available when you send emails from leads, contacts, companies or deals sections. The email details will be shown in the Activity Stream immediately - user who have access to the CRM items the email has been sent to - will be able to like it or share their comments: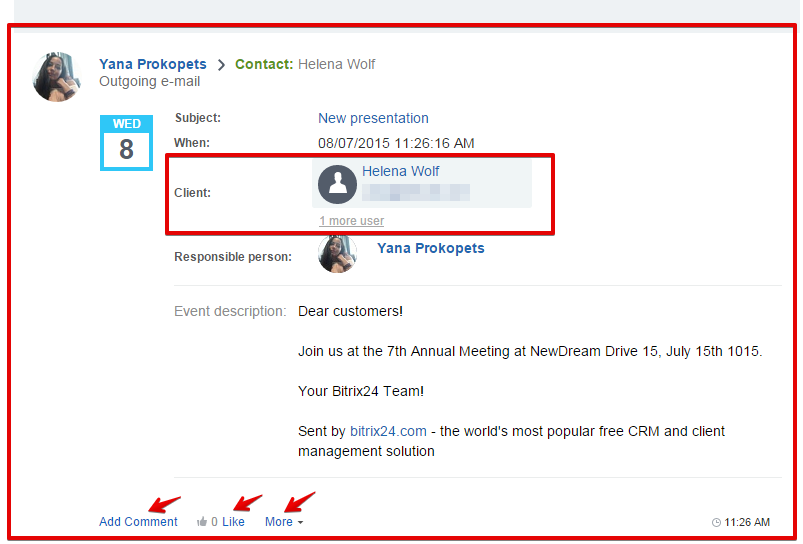 Note that the task, email, call and meeting buttons will open up 'floating' windows where those various activities can be created – and then added to the appropriate streams. For example, when you open the email details you will have options to forward this email or create further activities: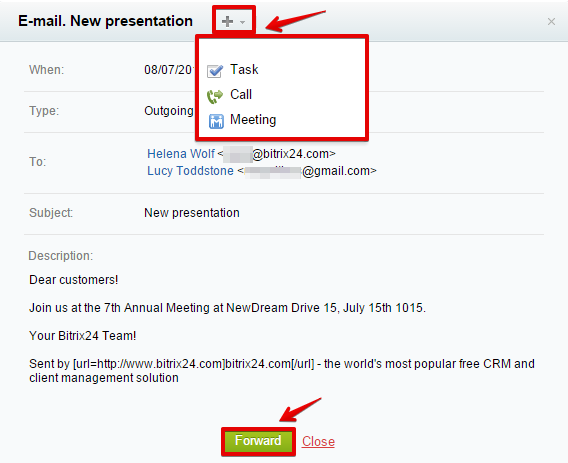 New CRM tasks can be added either for specific CRM items (open full task form) or generally for the CRM. Please note that when you set tasks not bound to any particular CRM item, these tasks won't be shown in the CRM Activity Stream, they can be found in your main tasks section in Bitrix24.

3 & 4 - Filters: allows to filter CRM messages & activities by several parameters:

- all or my;
- messages or activities (tasks, emails, calls and meetings);
- search by author & date.

By default the CRM Activity Stream messages are filtered as "my", which means that the user will see the following events:

- those which the user has created;
- those being addressed to the user;
- if the user is responsible for the bound CRM records;

- those he is following.

The "follow\unfollow" option is located inside each CRM record's details page: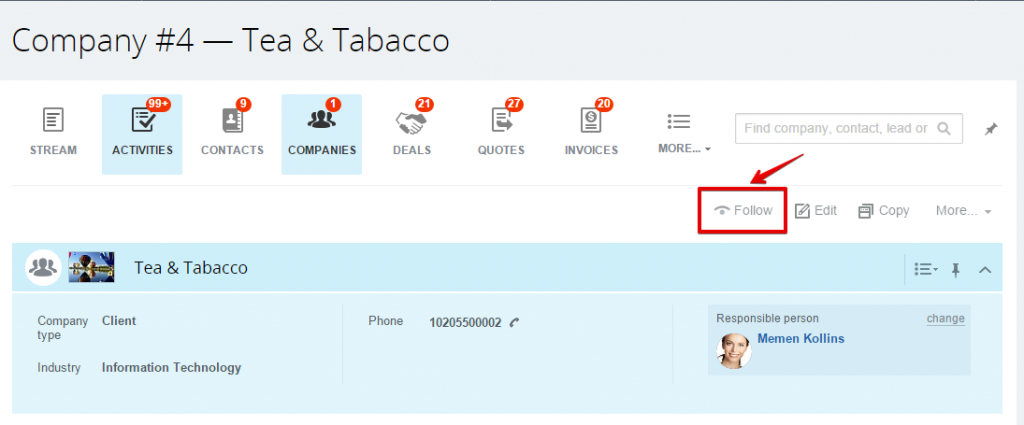 5 - Current Activities: block shows upcoming activities and is positioned on the right next to the stream.

6 - Main CRM Search: searches through all Bitrix24 CRM, Please note that the search results will be shown to users due to the configured Access Permissions.

7 & 8- Send New Message & The Stream: posts new messages to the CRM Activity Stream. It mimics the main Bitrix24 Activity Stream very much.
About line: you can post messages (with files, links, videos and mentions) and comments to CRM objects own Activity Stream (will be displayed on each record's page) using the "About" field. It means the post will be attached to the corresponding CRM record.
To line: you can use "To" field to send these messages to other Bitrix24 users or CRM contacts and leads.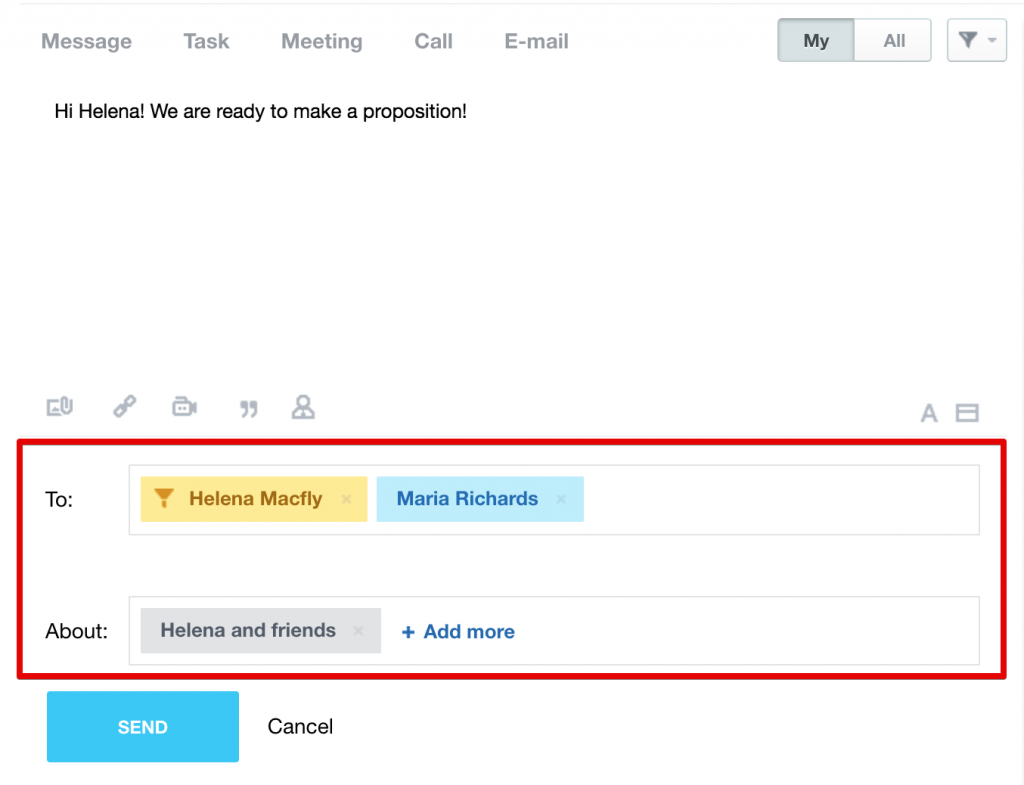 When the message is posted, the recipients are marked with 2 different colors: grey for CRM records where the message will be attached (posted to record's own Activity Stream); light blue for your Bitrix24 users & orange for email recipients.